CHOOSE PROCESS :
♦ Material Selection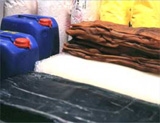 Raw materials are carefully sorted and tested from our suppliers to ensure the fundamental requirements necessary for the production of best quality products.
♦ Compounding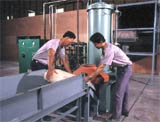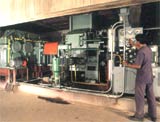 Rubber is throughly mixed with chemical agents in the banbury mixer and is then cooled in the batch - off machine. A repeat is required with the yield of the final stock.
♦ Cord Manufacturing Process
The final stock is used to coat at the same time on both sides of the nylon textile using 4 - roll calender. The double - sided coating minimizes time, or in another word, maximizes output. This stage produces the products of various types and sizes for the next manufacturing process.
♦ Tread Stock Extruding and Sidewall Rubber Manufacturing Process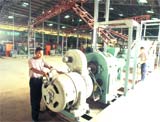 At the same of the cord manufacturing process, another part of the final stock is processed by the extruder machine to be tread and tire sidewall. The product from this process, the cut plies, is later conveyed and cooled for the next procedure.
♦ Tire Building Process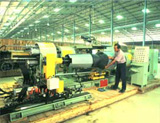 The tire building machine is applied to integrate the cord, the nylon textile belt and the cut plies during the building of green tire.
♦ Curing Process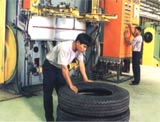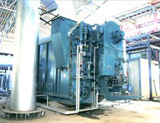 The automatic B.O.M. deployed cures various types and sizes of the green tires with consistent heat levels. The automatic feature requires fewest manpower.
♦ Structuring and Trimming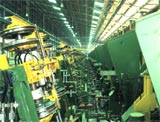 The cured tires from the earlier process are inflated and then allowed cool in order to gain rigid struture. They are then conveyed for trimming.
♦ QC Test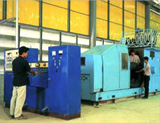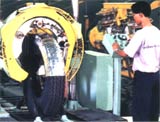 Throughout the manufacturing process, our experienced personnel closely monitor every procedure to ensure the possibly best quality. Before rolling off the production line, every single unit of HIHERO tire is tested under simulated situations to ensure the best quality, follow by ackaging process prior to deliver to the customers.