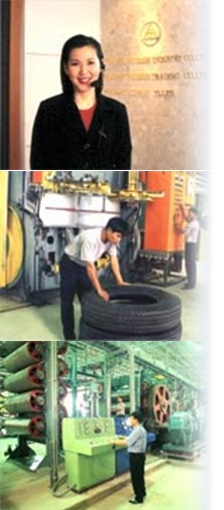 Home
> Company Information

Hihero heavy duty tire has a commitment to produce international-quality standard commercial vehicle tire and to be globally recognized.
Thailand's commercial truck market emerges as having a great potential as the nation's economy grows, resulting in the heavy duty tire market continuously growing. The favorable environment creates the bright future and opportunity for us to satisfy customer's need.
Transportation of raw materials and products grows in accordance to the nation's trade and service development in which the commercial vehicles become an important part for every single business sector. The trend is the momentum behind the movement of the commercial tire's continuous growth. The market opportunity is tremendous.
Fostered by the positive trend, Hihero heavy duty tire, therefore, was formed with Japan's world renowned tire company Marubeni (Thailand) being the major shareholder. The venture manufactures products under the brand name Hihero heavy duty tire, while its sister company, Far East Rubber Trading Co., Ltd. acts as the sole distributor of the new brand of top quality tire in Thailand. Hence, Marubeni's International profile will also drive overseas market opportunity.
Having a commitment to provide the consumers with world-quality standard products, we apply state-of-art technology in the manufacturing process of Hihero heavy duty tire. Throughout the "Quality Oriented" manufacturing cycle, we carefully control the factors that may affect the quality from well-sorted material, well-planned procedures and well-trained personnel until the top quality product is achieved. In addition, the usage of local resources is of importance for the benefits of Thai people and the Thai economy.
In addition, Hihero expands its growth into real estates industry, introducing the company's first condominium project, Incio Condominium, located just 20 minutes from downtown Bangkok, designed to meet the needs for those who strive for a living in suburbs, escaping the congestion and bustle of the crowded city. Incio is a small step for young people, first jobbers to establish the first home of their own, with the suitable room size.
All 6 buildings are designed in the form called 'Modernisim Style', focusing on simplicity, yet emphasizes the building brightness and cleanliness with white tone and breaks with navy and brown bands, creating ongoing rhythm and motion of such eye-catching structure on Serithai Road. Moreover, the project master plan is designed to activate the wake of living together as one small community or 'Neighborhood Social'.